The 8″ Omnigrid Rotating Cutting Mat: Perfect for Travel and Easy to Store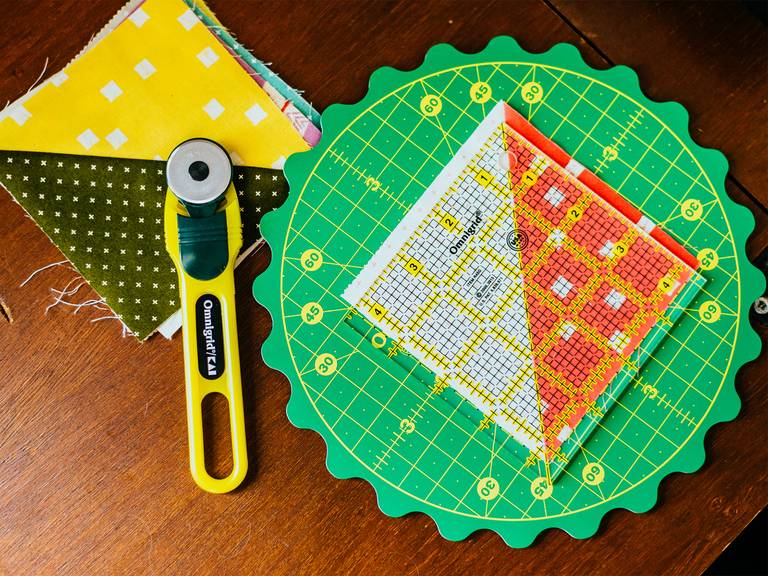 This petite mat goes wherever you go.
Use the Omnigrid® 360° 8″ rotating cutting mat to cut fabric for sewing and quilting projects and prepare to be delighted. This clever round cutting mat packs a double punch when it comes to features. First, it rotates so you don't have to. Second, it's ideal for working on projects on-the-go because its small size is easy to pack up and take along wherever you're doing your crafting.
It spins.
First, let's talk about the scalloped edges on this 8″ rotating cutting mat, because they really are unique. With a quick nudge of your fingertip, use the scallops to gently spin the mat in place so you don't have to move. Rotate the mat up to 360° to reposition your project without moving your body or your pieces of fabric. Now that's what we call function.
Take it anywhere.
The mat is only 8" in diameter, making it the ideal travel companion. Take it with you to your front porch, the park, or even your favorite restaurant or gathering spot – it works anywhere you've got a tabletop to put it on! And who doesn't love a little fresh air while crafting?
All of your project supplies – mat, ruler, rotary cutter and fabrics in progress – slide easily into a tote bag or purse. It's a compact little set-up allowing you to maximize crafting time wherever you may be.
Use it right next to your machine.
When you're not on the move, the mat is ideally placed on your workstation near your sewing machine – it comes in handy for quick cuts and doesn't take up too much space while you're working.

If you don't have a dedicated sewing space, no worries! When you're not working, the snug mat is easy to pack up and store out of sight.
Twice as nice.
For larger projects, check out the Omnigrid 360° 14" rotating cutting mat. Both the 8″ and 14″ rotating mats boast standard Omnigrid features: 1/2″ grid markings for easy alignment; centering measurements; 30°, 45° and 60° markings for angle cuts. Additionally, the rotating mats each have that clever scalloped edge for spinning, as well as a non-slip rotating base that lightly suctions to a flat surface.
Companion pieces.
Pair the 8″ rotating mat with an Omnigrid ruler and rotary cutter for the most precise fabric cuts possible. The grid markings on Omnigrid rulers and mats work together to make fabric cutting effortless yet perfect. The 2-1/2″ x 8″ Omnigrid ruler and 28mm rotary cutter shown above are great choices for use with the 8″ rotating mat.

The 1″ x 6″ Omnigrid ruler also pairs nicely with this petite mat, as do all of these square rulers: the 2-1/2″, the 4″, the 4-1/2″, the 6″, and the 6-1/2″ square.
Explore our complete range of Omnigrid products and take quilting to the next level.