Knit Pillow with Pompoms Project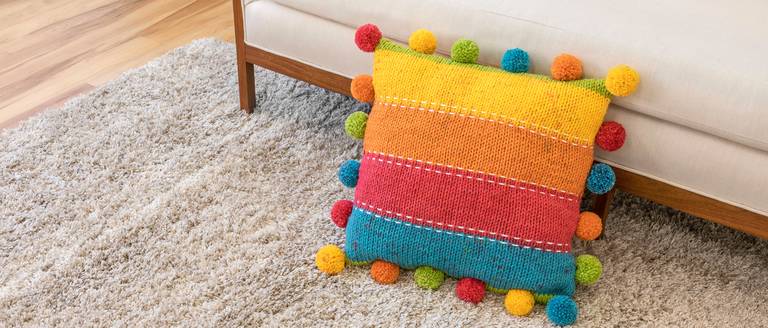 This pillow is a great learn-to-knit project. Stitched in stockinette stitch with fun pompoms all around, this pillow is perfect for any décor and skill level. Make it in any size but we love this big floor pillow size.
Size: Any size, we used a 20" x 20" pillow from Fairfield
Gauge: Follow gauge of chosen yarn
Notes:
1:  To determine how many stitches to cast on, make a swatch to determine gauge with selected yarn. Determine the number of stitches per inch and cast on as many stitches as needed for pillow size. For example: Gauge is 2.5 stitches per inch. For a 20" pillow, cast on 50 stitches.
2:  Pillow tops worked in Stockinette Stitch.
Abbreviations:
CO = Cast on
St st = stockinette stitch
tog = together
WS = wrong side
Supply List: 
Pillow Fronts:
Make 2.
1:  CO stitches to equal 20". For example, we CO 50 stitches with our 2.5 stitches per inch gauge. 
2:  Work St st until pillow front is 20" long. Cast off and block. Repeat for second piece.
3:  If desired, stitch a double running stitch between each color change. Put a row between each running stitch as color change may vary between colors. This also allows the running stitch rows to be equal distance apart. Weave in ends.
4:  With WS tog, stitch 3 sides of the pillow together, plus a little around each corner.
5:  Turn pillow and stuff the pillow form into pillow. Stitch opening together.
Finishing: 
1:  Make as many pompoms as desired for the edges of the pillow. Our pompoms are 2" in diameter. Tie with long strings to be used to secure to pillow edge.
2:  With tapestry or yarn needle, attach pompoms to edge of pillow. Tie and trim strings to secure.
 Isn't this fun? It is perfect for a big squeeze! Happy Knitting!