How to Adjust Sewing Patterns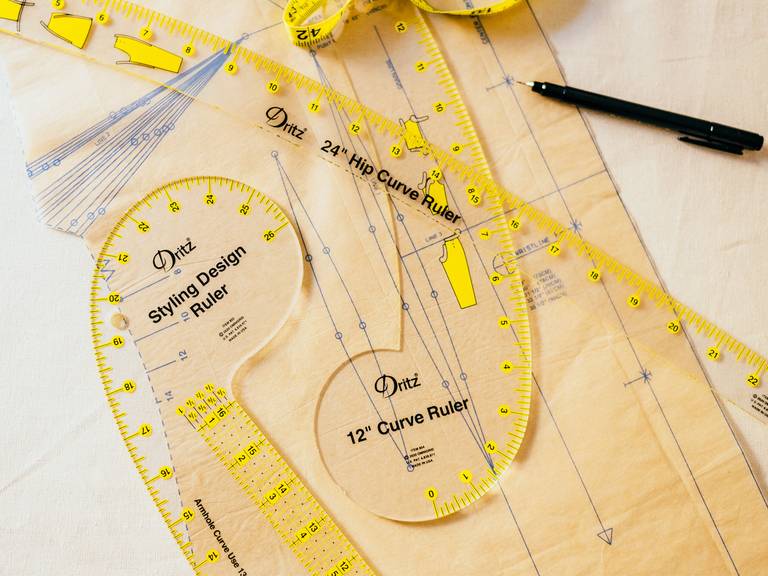 If you design and sew your own clothes or alter and repurpose your existing wardrobe, the Dritz Design Ruler Trio is an essential tool set for you. Why? Rulers allow you to draw clean lines that are accurately measured and placed – a process that is essential for altering and fitting garments and sewing patterns.

Learn more about the individual rulers that are part of the trio, and how to use each to accomplish many unique adjustments. This blog post includes links to our in-depth ruler tutorials — they contain more than 85 pages of illustrated, easy-to-follow instructions. Best yet — they're free! Simply download and save to reference again and again as you sew.
Make 37 unique pattern adjustments with these 3 rulers.
Get acquainted with the rulers in the Design Ruler Trio: the styling design ruler, the 12″ curve ruler and the 24″ hip curve ruler. These rulers are available as one handy set. You can use each ruler on its own to make measurements and line adjustments, but they also work well together to make a variety of complementary adjustments on a single garment.
The styling design ruler.
The styling design ruler is packed with features. Take a close look at its markings and curves. Notice the curved inch-marked edge on its left side. These are ideal for sleeve caps, necklines, armholes and hips. Its right side is a 16″ long straight-edge ruler with 1/8″ grid marks. The styling design ruler also has a few basic illustrations for quick how-to reference while work is in progress.
Put it to work.
The styling design ruler is versatile because of its combination of markings and curves. Use this ruler for basic techniques like lowering/raising an armhole, adjusting darts or increasing/decreasing the waist of a skirt. Intermediate techniques include increasing/decreasing shoulder width at an armhole and shortening a bodice. Whatever your skill level, the styling design ruler is handy to have. Our technique tutorial for this ruler includes instructions for 14 different adjustments.
The 12″ curve ruler.
Its inch-marked edge and tight curve are key features of the 12″ curve ruler. It also has a few basic illustrations printed right on it for quick reference while you're working.


What you can do with it.
The ruler's small curve is perfect for adjusting armholes, necklines and other important design lines – after all, not all lines requiring adjustments are straight! Beginner techniques include changing the shape or size of a collar, adjusting pockets or raising/lowering a neckline. Intermediate sewists can decrease a sleeve cap or adjust the crotch curve in a pair of pants. Our tutorial for the 12" curve ruler has instructions for 12 key adjustments.
The 24″ hip curve ruler.
The 24" hip curve ruler boasts a long, graceful curve that is crucial in creating a well-fitting skirt or pair of pants. Like the other rulers in the set, it includes edge markings for accuracy and a few quick illustrations printed right on the ruler.
Essential for skirts and pants.
Pattern sizing can be very different from the ready-made size you are used to buying at retail. Use the 24″ long hip curve ruler to change the shape or placement of pattern lines for a great fit. Beginner techniques include increasing/decreasing the waist/hip area of a skirt or pair of pants. Intermediates can tackle a tilted waistline. The tutorial for the 24″ hip curve ruler features 11 adjustment techniques.
Standard features: all rulers.
While each ruler is special, there are some features that they share. Each ruler is made out of 1/8″ thick laser-cut acrylic. They all have patented double sight-lines that create enhanced visibility on both dark and light fabrics – the contrast is great for easy measuring. Each ruler has a 3/8″ hole for hanging while not in use.
 All together now.
Combining the rulers to create a single project makes perfect sense – that's why they are offered as a set. Use multiple rulers to draw creative style lines. The example above uses all three rulers to convert a dress into an asymmetric halter tunic. There are limitless pairings and design ideas – let your creativity take hold!
Additional sewing supplies to have handy.
In addition to sewing room basics like your sewing machine and related supplies, you'll want to have these items handy: marking pens or pencils, the Dritz See-Thru ruler, Dritz tracing paper kit and your garment or sewing pattern.
A tip about rotary cutting with rulers.
Did you know that rotary cutters come in really handy when using these design rulers? That 1/8″ acrylic we mentioned earlier is ideal for pairing with a rotary cutter. While the fabric for most garments is cut with scissors, there are always projects that include longer edges that suggest the option of rotary cutting. It saves time!

Tip: to use a design ruler with a rotary cutter, always push down firmly on the ruler with your non-cutting hand. Hold the cutter so the blade is perpendicular to the cutting surface and push the cutter away from you. A cutting mat is a must!
All you need to know.
Wow – there is a lot you can do with these rulers! If you didn't click through already, below are the links to the tutorials for each ruler. There are 85+ pages of illustrated, easy-to-follow instructions. You'll want to save these tutorials and file them away for referencing again and again as you sew.
You've got some reading – and some making – to do! Ready?