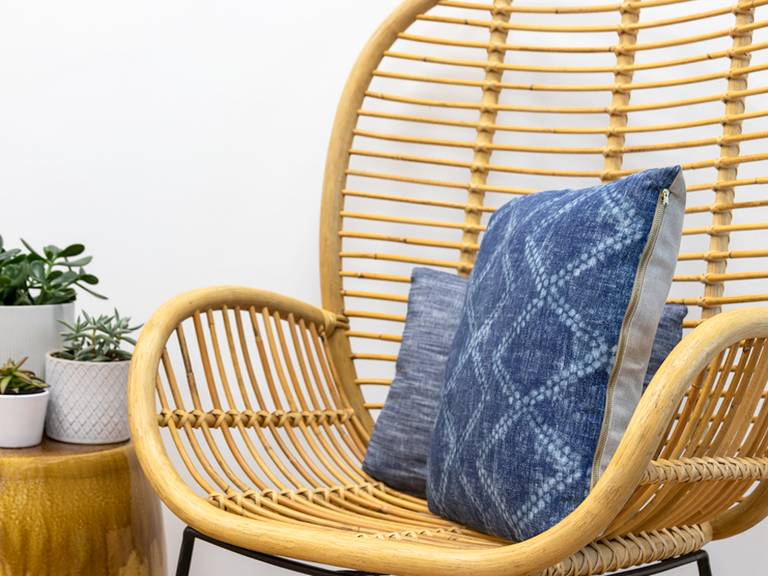 Technique: How to Make Pillow Covers without Floppy Corners
Perfect pillows are a lovely thing, and nothing is worse than going to the trouble of making your own pillow cover, just to discover it's got floppy corners (sometimes referred to as "dog ears"). How to prevent those annoying corners that flop over because your pillow form doesn't perfectly fill out the pillow cover? We've got tips for you! With a few basic Dritz sewing supplies, you can make perfectly square pillow covers – without "dog ears" – it's all about how you cut your fabric.
Supply List
Fabric – amount needed will be determined in step 1
Pillow Insert
Fiberfill (optional)
Step 1:  Measure your pillow form and cut two fabric squares to the same size as the pillow form.
Step 2:  On wrong side of fabric, measure in ½" from each corner and mark.
Step 3: Measure 4" out from corner on each side of the fabric square and mark.
Step 4: On each side, draw a slightly curved line from the ½" mark to the 4" mark on the edge of the fabric square. Repeat at each corner.
Step 5: Cut away corners along drawn lines. Sides of fabric square will be straight while corners have a gentle curve. Stitch pillow with ½" seam allowance.
Step 6: Insert the pillow into the pillow cover and it will look square. By removing some of the fabric in the corners, the "dog ear" effect is minimized.
TIP: If you still have some "dog ears" after inserting the pillow form, just add a little loose fiberfill to the corners. Flatten slightly so there is no lump.
By using your Dritz Styling Design ruler and this simple technique, it's easy to make pillow covers without floppy corners. Your pillow form fits perfectly, and the only one sporting "dog ears" is Fido!