Custom Laundry Bag Project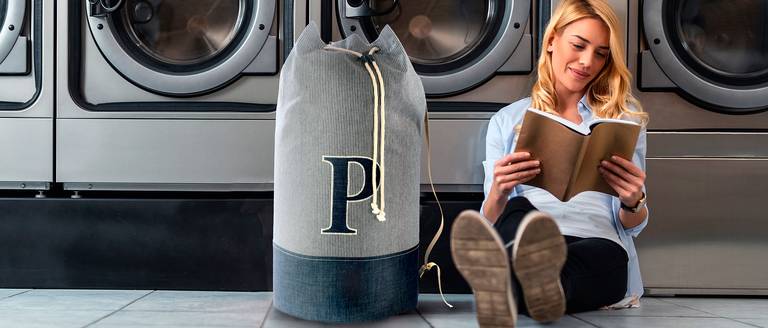 What's one thing most college students seem to have a lot of? Dirty laundry! Help them keep all those growing piles under control (and easy to transport) with this simple-to-sew laundry bag! Use the optional swivel hook to keep keys and coins organized. The D-rings allow the straps to adjust to just the right size or can be used to hang the bag from a hook.
Supplies:
Other notes: ½" seam allowances, unless other is indicated.
1. Cut the following pieces:
Stripe denim – 48" x 23-1/2" piece for top section of bag
Solid denim
2 – 16" circles for bag bottom
48" x 9" piece for bottom section of bag
2 – 3" x 3-1/4" pieces for shoulder strap end covers
3" x 3" piece for swivel hook tab
2-1/4" x 3" piece for cord lock
Batting – 16" circle
Interfacing – 48" x 2", can be pieced
Tip: Use Omnigrid ruler for accurate small pieces 
2. Pin and stitch top stripe to solid bottom along 48" side. Use a ½" seam. We used a serger to stitch our ½" seams. Press seam towards solid bottom. Topstitch on solid bottom about ¼" from seam.
3. Print a large monogram letter with computer. Remember to print as a mirror image. Using paper-backed fusible web and solid denim make a monogram letter following package instructions.
Tip: Use computer for large monogram letter.
4. Fold bag in half widthwise, wrong sides together, and lay on work surface with raw edges to the right. Cut out letter, remove backing and center on striped top of folded bag about 2" up from seam. Fuse to bag.
5. Apply stabilizer to wrong side of bag directly behind letter. With wide satin stitch, stitch around letter. Tear away stabilizer from wrong side of bag.
6. Fuse pieced interfacing strips to wrong side at top edge of bag. With ½" seam, serger (or stitch) side seam, right sides together. Press seam to one side.
7. Serge top edge to finish. Fold top edge down 2" and press.
8. Optional inside swivel hook: Fold swivel hook tab in half with right sides together. Stitch with 1/2" seam. Turn right side out and press, centering seam. Top stitch along both edges. Loop tab through swivel hook and align raw ends. Stitch across tab near swivel hook. On inside of bag, center tab over side seam and 3-1/2" from top edge; pin or baste in place. Fold top of bag down and topstitch 1-3/4" from top edge.
9. For grommet placement, measure 5-7/8" from seam and 1" down from top. Mark and continue to move along top edge to mark grommet positions every 5-7/8". Apply grommets through all layers, following package instructions.
10. Sandwich batting circle between denim circles with wrong sides together. Baste layers together. Divide circle and lower edge of bag into quarters and mark with pins.
11. Pin bottom circle to lower edge of bag, right sides together, matching pins. Stitch with ½" seam. Serger edges to finish.
12. Cut 5" piece of belting for hanging hook
D-ring
. Loop belting through 1 D-ring and align raw ends. Stitch close to D-ring. Cut 30" piece of belting for strap and align one end with D-ring belting ends. Baste together. Cut 6" piece of belting for strap D-rings. Loop belting through 2 D-rings; align raw ends and stitch about ½" from loop.
13. Press both long edges of strap cover under 1/2". Press 1 short edge under 1/4". Open 1 long edge of cover and center D-ring hook/strap on wrong side of cover aligning raw edge with open fold. (D-ring side is down.) Fold top edge down; pin. Wrap raw edge side around
belting
 first and then folded edge side and pin. Baste down center fold. Repeat for double D-ring strap end.
14. Position strap end with hanging hook over side seam and down 2" from top edge. Place double D-ring strap end over side seam and 2" up from bottom seam. Stitch around edges of strap covers and an "X" through the centers to secure.
15. Cut end of strap at an angle and stitch to keep from unraveling. Apply some
Fray Check
to minimize fraying. Loop strap end through both D-rings and then back through just the top D-ring to form shoulder strap. Adjust to desired length.
Tip: Fray Check prevents raveling.
16. Stitch long ends of cord lock, right sides together, with 1/4" seam. Turn right side out and press, centering seam, to form a long tube. Bring raw edges of tube together, seam side out, and stitch with 1/4" seam. Turn so seam is to inside, center, and press lightly to flatten slightly. Stitch 5/16" from each fold to create narrow openings for
cable cord
.
17. Tape ends of cable cord tightly. Weave back and forth between grommets. Use a
bodkin
to thread cord ends through cord lock. It should be able to slide but with some resistance.
18. Knot cords at desired length and trim ends. Apply some
Liquid Stitch glue
to top and bottom of knot to keep it secure.
 What a great way to tote laundry to and from the dorm (or just to the laundry room)!