Top 5 Items for Pressing Garments, Accessories & Fabrics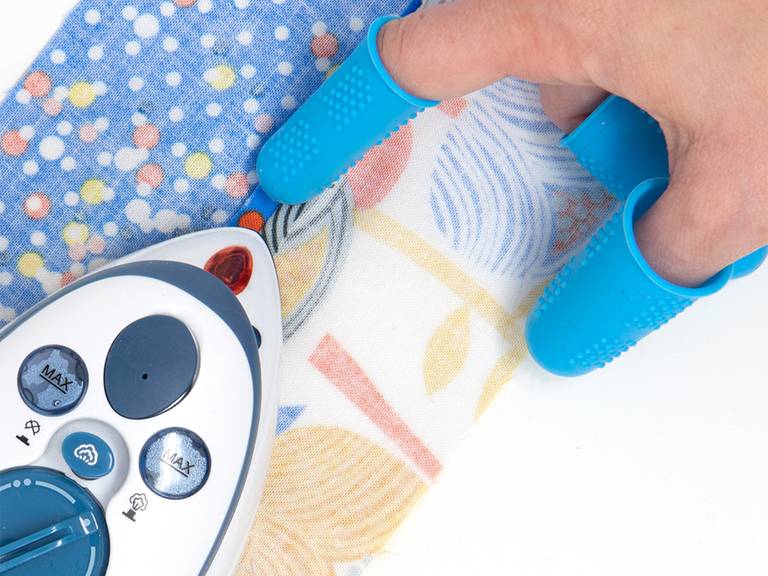 How to prepare fabrics for sewing and care for clothing & accessories.
Pressing matters, indeed. That being said, we want to make sure you know about our five must-have items for pressing garments and accessories and preparing fabrics for sewing and quilting projects. As far as caring for clothing, use clever Dritz items to save space and protect fingers. To prepare fabrics for DIY projects, you need a clean iron that is powerful and precise.
Petite but mighty.
Don't be fooled by its size. The Dritz mighty steam iron is just that – mighty! It's small and compact, but boy does it produce a lot of steam. It heats quickly to a selected temperature between 140-428° F and has a non-stick sole plate and dual voltage. The mighty steam iron comes with a storage bag and measuring cup and is perfectly sized for travel.
Perfectly paired.
Protect your work surface from heat and steam with this dynamic duo: a mighty steam iron and silicone iron rest. The iron rest is made of a heat-resistant silicone material and has raised dots which help the iron cool quickly. No dedicated ironing area? Set up a space-saving ironing station with a collapsible tabletop ironing board. Pull it out and put it to use only when you need it.
That's steamy.
The Dritz mighty fabric steamer is a versatile tool to have in your arsenal. It has two different settings that make it ideal for steaming both clothing and home decor. The shorter setting works well for clothing while the longer heat setting and duration is ideal for curtains. It's easy to use because you don't need an ironing board – just apply stream directly to the fabric.
Protect those fingers.
Thermal thimbles to the rescue. These heat-resistant silicone thimbles prevent finger burns when you're pressing seams and project details. You can wear them any time, but they're particularly helpful when you're pressing fabrics for DIY projects and you want to get your fingers close to the iron. See them in action!
Happy pressing!